The St. John the Evangelist Youth Group is for Grades 7-12
For more information, contact:
Jessica West (Director of Religious Education) at 419-782-7121
Pam Lightle (Grades 5-8 and Confirmation) at 419-782-7121.
KIDS AGAINST HUNGER
The 7/8 Youth Group actively integrates words with deeds! As our Work of Mercy in this Year of Mercy, we have just raised $4500 to buy dehydrated food (rice, dehydrated vegetables, soy crumbles, and vitamin powder) that we will package into 15,000 self-contained meals for people in crisis in the United States and around the world. We are proud of our commitment to helping others!
Y.E.S Project:
The Youth Elect Service (Y.E.S.) project occurs annually in June and offers our youth and adults with the opportunity to put our faith in action by serving those in need in our community.  Starting Thursday evening, our youth will join with college young adults and adults from our parish and St. Mary's to grow together in faith.  On Friday and Saturday they will take that faith out to our community by doing home improvement projects for parishioners – from landscaping, to painting, to fixing up a deck, and so much more!  The opportunities are endless and the Holy Spirit is truly working through us all to minister to our community.  Please join us for an amazing great time!
To sign up for the YES Project on June 15-17, 2017 please print, fill out and return the form(s) to the office with your registration fee.
Y.E.S. Youth Registration 2017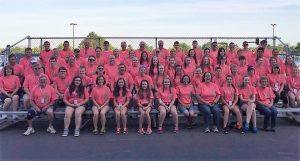 Y.E.S. Adult Registration 2017
See below for more info on what to bring and when to be where for the YES Project:
See complete Second Hour information here.
Confirmation 1 (9th gr)
Confirmation 2 (10th gr)
Second Hour 7&8 gr